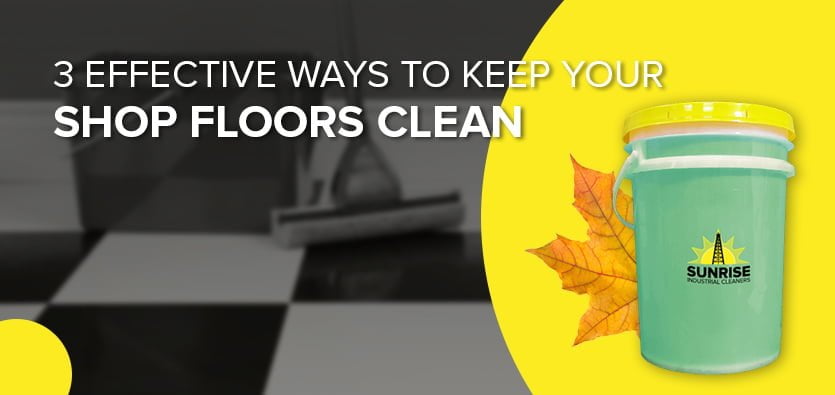 No one likes to buy products from shops that are messy, unclean, and a possible hub for dangerous microbes. However, if you're spending thousands of dollars on retail marketing and are not worried about your shop's cleanliness, then you might need to reconsider your business's priorities.
A clean retail shop is key to a safe and effective shopping environment. With the environmental restrictions and SOPs due to COVID-19 getting tighter and tighter, shop owners and managers must look for ways to keep harmful pathogens, dirt, and grime away from their stores. This will ensure your staff's good health and influence your consumers to revisit your store.
Keeping your retail floors clean, as they receive the most amount of foot traffic in a day, can be a daunting task. For this reason, we at Sunrise Industrials Cleaners have compiled five easy ways to make sure your retail floors remain clean and germ-free.
Schedule Regular Cleaning
The condition of your shop usually determines whether you invest in your business or not. Floors make an integral, largest, and the most significant part of your shop's interior, and if it is not well-kept, everyone will notice.
Scheduling regular cleaning will ensure that road dirt and grease that come in with foot traffic don't become your floor's permanent resident. It will also help you make an excellent first impression on your new visitors and help them see that your company is peculiar about cleanliness and hence everyone's safety.
Choose The Right Products
Not all cleaning products are the same, especially for cleaning retail shop floors. Different stores have different kinds of floors depending upon the overall ambiance of the shop, and choosing the right cleaning product for the right floor type makes all the difference.
However, this does make selecting the right product a bit difficult. Your choice of the cleaner will depend upon the following things:
Determine your floor type, which may be wooden, concrete, marble, or tile. Ingredients of cleaning products differ slightly depending on the floor type
The amount of foot traffic your floor receives in a day
The kind of foot traffic your customers bring in
The age of your floor or floor material
The types of spills, dirt, and grime
To avoid getting the wrong product and ruining your floor, consult with experienced cleaners and janitorial services about the best product for your floor. At Sunrise Industrial Cleaners, we offer you cleaning products that suit every type of floor and provide the best results.
Moreover, keep in mind that cleaning and disinfecting your shops' floors are two different tasks that require different cleaning products. Try our Isopropyl Alcohol (70%) if you're looking for the best sanitizing solution for your floors.
Provide Your Staff With Cleaning Tools
Employees are more likely to wipe up a spill or clean a messy surface if they have the right tools at their disposal. To keep your floors clean and disinfected at all times, you must set up a cleaning station where you can install cleaning supplies such as sanitizers, cleaning products, mops, brooms, hazard signs, and cleaning tools.
About Sunrise Industrial Cleaners
Based in Edmonton, Canada, Sunrise Industrial Cleaners specializes in producing high-quality industrial cleaning products such as soaps, degreasers, detailing products, floor and equipment cleaners, chemical applicators, and more. If you want to give your shop floors a high-end finish, consider using our Heavy-duty floor cleaning products.
For more information on floor cleaning products, visit our website or contact us now for customized service.