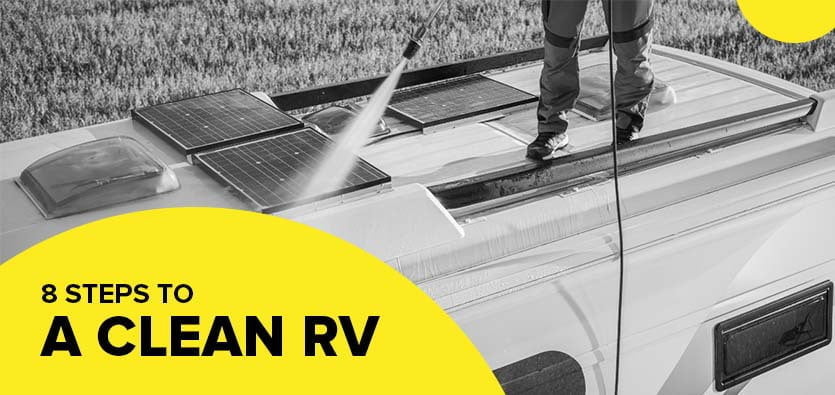 Humans develop a sense of attachment to people or places that make them feel safe and satisfy their needs. Similarly, your mind can associate certain emotions and feelings towards an object as well, whether it's something as small as your favorite coffee mug or your giant RV. Anyone who purchases a campervan knows that it is not a small investment, both financially and sentimentally.
Since there is a lot of value associated with your RV, it's only natural that you would want to make sure that it runs and looks as good as new. This can only happen if you take the proper time for its maintenance and regular cleaning as harsh weather conditions, rocky terrain, and dirt can lead to the wear and tear of your vehicle.
We have compiled a list to help you clean your RV and get it ready for another trip across the country:
Read The Manual
When you buy a new RV, it comes with an instruction manual that gives you all the information you need to clean and maintain its interior and exterior. It contains detailed care instructions and the type of cleaning products you can use, e.g., the various types of cleaning chemicals you should use according to the material your RV's roof is made of. If you have lost the manual, you can contact a dealer or find a copy online.
Prepare For Cleaning Day
Whether it's cleaning your house or your car, you are always confused about where to start. We suggest that you start with preparing yourself and your RV before actually starting with the cleaning process. Select comfortable and waterproof clothing to wear when cleaning your campervan. Research thoroughly to make sure you have the right cleaning products, the right cleaning tools, and a steady water supply before you begin.
Once you have all the materials you need, do a patch test on a small hidden area of your RV's exterior to rule out the possibility of any possible damage from the cleaning chemicals. Once you get the green light, you can jump right into the washing process, starting from the roof and going downwards.
Start With The Roof
It's a good practice to clean the roof of your trailer before washing the other parts so you can avoid stains or marks on the already clean sides. RV roofs can be made from waterproof membranes, fiberglass, rubber, aluminum, and other metals.
Knowing the material used in the production of your trailer's roof will help you choose the correct cleaning product and avoid any permanent damages. For example, metal roofs can be washed the same way as the exterior, whereas rubber roofs require special products. Clean your van's roof twice annually and make time to inspect your roof for any potential leaks and cracks regularly.
Wash The Exterior Next
We recommend that you invest in a cannon or gun to spray suds on the exterior of your campervan as it will create a thick layer of foam and provide good coverage. A car wash foam sprayer will save you time instead of dipping a brush in a bucket of suds over and over again.
You can use a cannon with a pressure washer and a foam gun with your garden hose. Use a soft lamb wool cloth to scrub instead of a brush to prevent scratches to the surface. You can occasionally wax the surface if you cannot make time for a long day of washing your van.
Wipe The Windows And Doors
Dirt and small particles can accumulate on the rubber seals of the windows and doors of your RV. You can use everyday detergents to clean the seals, but using specialized cleaners is the safest bet, as they clean the seals and moisturize them. Moisturizing can help prevent cracks in seals due to dry weather and prolong their life. You can also use isopropyl alcohol to sanitize your doors and windows to avoid the hassle of washing each time.
Don't Forget The Undercarriage
Much like the space on top of the refrigerator, certain areas become neglected while cleaning something. The same is true with your RV, as grease and grime can collect on the underside of your trailer overtime. It can reduce the chances of dirty residue beneath your vehicle winding up on the exterior of your RV or yourself.
You can use industrial degreasers, both multipurpose and solvent-based according to your needs, for this purpose. An additional advantage of degreasing your undercarriage is that it can help diminish any chances of bad odors and toxic gases from developing.
Clear The Interior
The interior of your campervan matters as much as the outlook. After washing the RV's exterior, hop inside and declutter the mess. Change the linen and sheets, and wash the dirty ones before restocking. Wipe and sanitize the surfaces with isopropyl alcohol products to maintain hygiene.
Vacuum the floor while making sure you get to all the nooks and crannies of your van. If your mattress is giving a musty odor, spray the mattress with a mixture of water and essential oil, and allow it to air dry for a few hours overnight.
Routine Maintenance
To protect your water tank from mold and mildew resulting in malodor, drain the water regularly. Wash your tires with water after each drive to prevent mud from accumulating on the exterior. Do not forget to close your awning when it rains, as it will damage the material and shorten its lifespan.
Apart from these, always check your exhaust and check for oil leaks to prevent any unwanted splashing on the RV's exterior.
Taking care of your RV requires a lot of time and energy, but the ease of the journey you can get will be worth all the trouble and ensure the efficient running of your vehicle.
Sunrise Industrial Cleaners offer a complete range of top-quality and reliable industrial cleaning products to meet your needs precisely. Select your cleaning products and ensure your RV stays in good, working condition for many exciting trips to come. To get in touch with us, click here.