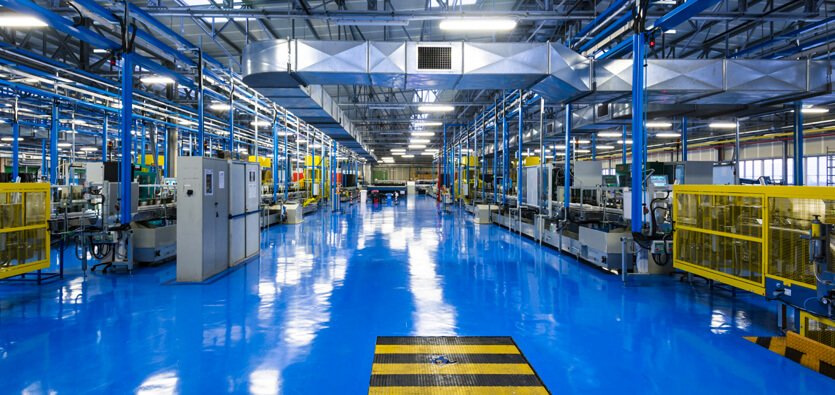 Today, factories have progressed a lot in terms of technical innovations and improved working conditions for employees. However, with advanced machines and smart technology in place, the present-day companies have even a more pressing task at hand to keep their workplaces clean around the clock. Cleaning industrial premises regularly can significantly help in eliminating all work-related hazards and continue the vital machinery in an optimal state.
Daily spillage of oils, greases, and other liquids at large-scale manufacturing facilities can cause machinery to stop working or staff members to tumble or slip on the wet floors. Effective cleaning solutions and industrial cleaners help production houses to maintain a high level of efficiency and safety in their premises, prevent health and environmental issues, and produce high-quality finished products.
Some of the key industrial areas that require frequent cleaning include floors, walls, ceilings, office furniture, windows, production tools, outdoor spaces, and more. The most compelling reasons to keep a clean and organized workspace consist of:
Increased compliance with local and international regulations
Meeting particular requirements of the clients
Getting positive audit and inspection results
Boosting or maximizing plant productivity
Promoting a safe working environment for staff, visitors and contractors
Preventing pest infestation
Presenting a hygienic visual image
Decreasing the potential risks occurring from food hazards
And many more
Now, let's discuss some of the top advantages of having a clean and organized factory:
Increased Workplace Productivity
Boosting workers' productivity is one of the main priorities of any factory, which can be achieved by providing employees with safe working conditions and a clean environment. The functionality of tools and equipment also largely depends on keeping them tidy and by removing all the debris and dust from them.
Frequent washing keeps harmful microorganisms such as bacteria, molds, irritants, allergens, and other contaminants from building up inside the facility, which results in a healthy work atmosphere. Apart from that, a detailed cleaning of industrial equipment using specialized soaps and degreasers reduces wear and tear, removes hazardous residues, and keeps machines in an optimal condition.
Compliance With Regulations
To adhere to the international workplace standards provided by the Organizational Safety and Health Administration OSHA, companies need to maintain neat and tidy working conditions to avoid deaths, injuries, and sickness of their workers. When you invest in premium cleaning chemicals, you don't only ensure employee safety but also avoid possible lawsuits.
Reducing Long-Term Costs
When you utilize specialized industrial cleaning supplies, it helps you save a lot of money on washing your tools, machines, and floors. These industrial cleaning products are designed to deal with all sorts of cleaning issues present in your industrial premises and provide 100 percent washing results, including hard-to-reach sectors.
Environment-Friendly Cleaning
It doesn't matter if you have a small or large-scale manufacturing unit, being an owner or employer, it's your moral responsibility to keep your environment clean by using only the highest quality industrial degreasers and other cleaning products. Using industrial washers that consume very little energy utilizing adequate personal protective equipment, and cleaning tools with eco-friendly detergents, all lead to creating safer internal and external environments.
Sunrise Industrial Cleaners produces all kinds of industrial-grade chemical-based cleaning products. Visit our webpage for more information or contact us for customized customer care.