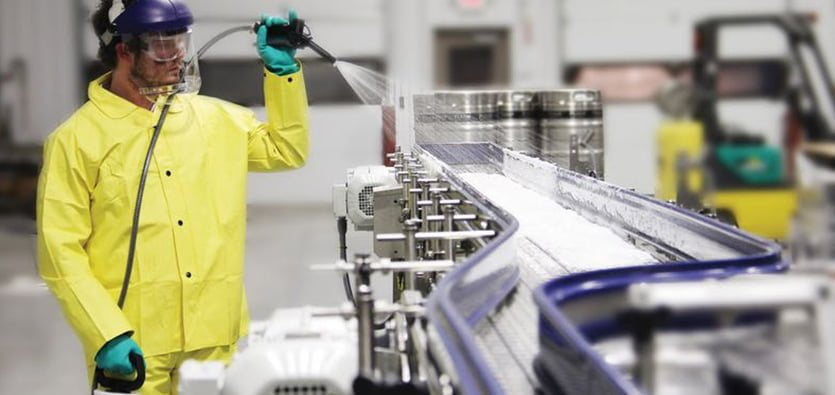 When it comes to ensuring cleanliness in the food industry, investing in the best cleaning products can save you a significant amount of money and protect your brand in the long run. Besides, it will also help you ensure your customers' safety, ultimately consuming the food processed in your industrial facilities.
Incorporating the following cleaning and hygiene-related best practices will benefit your business considerably:
Creating Sanitization-Based Work Culture
Ensuring the best quality in a food processing facility can only be achieved by creating a comprehensive disinfection-based work culture. Even those employees who do not directly participate in the cleaning process should also be aware of its increased significance. Moreover, they must also understand how their actions can impact the overall sanitization in the workplace.
Employers must provide their sanitization teams with appropriate resources to perform their work, including adequate workforce, training, sanitizers, and other equipment.
Provide Continuous Training
Being a food processing facility manager, it's your responsibility to provide adequate training to your employees in personal safety, food safety, and cleaning procedures. Conducting annual training is not enough for most of your workers to retain useful information. For this reason, you should arrange training events more frequently to reinforce new updates.
Creating A Documentation Program
It's best to implement a documentation program that clearly outlines the appropriate sanitization tasks, their frequency, and the surfaces and tools that need to be cleaned. Apart from these, you should also outline the best sanitizing solutions to be used, and necessary procedures to verify the degree of cleanliness.
It would help if you included essential sanitization steps in your program that include crucial details, including the type of cleaning products to be used and in what circumstances. It should also include critical information about using the cleaning chemicals, the amount of time they need to stay on surfaces, and when and how to rinse them.
Following Sanitization SOPs
Standard operating procedures SOPs for workplace cleanliness exist for a reason. It's best to document them and make them available to your cleaning crew, especially for processes that don't occur most often. Your sanitization SOPs must include vital information regarding:
Proper ways of dismantling equipment
Application procedures for particular equipment
Accurate chemical concentrations for various sanitizers
Prescribed contact times for different sanitizers
It's increasingly significant to follow your cleaning SOPs closely as utilizing industrial cleaners in the wrong concentrations could result in ineffective sanitizing results.
Keeping Drains Clean
Drains in food processing industries often get neglected as they are out of sight. They can be a source of biofilms, bacteria, and other pathogens that could contaminate the already cleaned equipment, areas, and surfaces in your facility.
It would help if you cleaned all drains in your premises first to decrease cross-contamination during the sanitization process. You can also implement a weekly drain cleaning program in your facility to overcome drain-related microbial contamination.
Verifying The Sanitization Processes
Finally, ensure that surfaces, equipment, and other vital areas have been cleaned using the proper steps. Through simple tests such as visual inspection, ATP swab tests, and UV flashlights, you can confirm your facility's cleanliness level. This verified data will help you and your team continually improve and learn about the best cleaning practices.
Sunrise Industrial Cleaners produces and supplies the best industrial-grade sanitizing solutions in Edmonton, Alberta. Visit our website to learn more about our high-quality industrial cleaning products or contact us for personalized care.