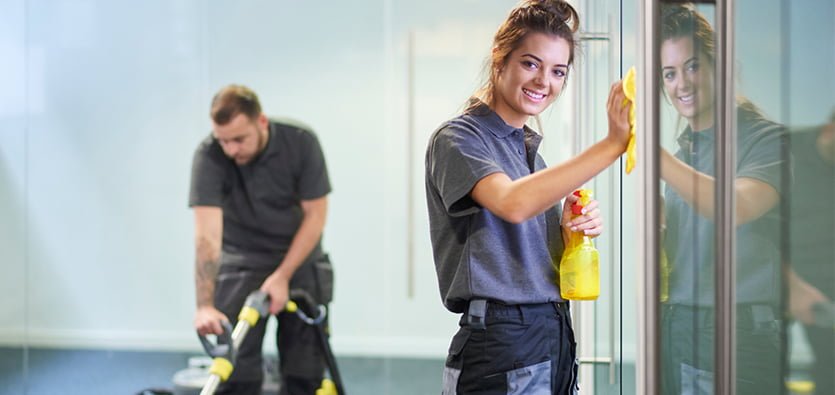 Hundreds of people visit commercial places every day which is why keeping these areas clean becomes integral. Without their effective cleaning, they look untidy and can cause many health-related issues and skin problems. An effective commercial cleaning procedure can help you keep your commercial space new and shiny for a long time. Many times, we notice how clean a certain space is upon entering. Consider the example of a shopping mall. If it is not clean and the garbage is not properly disposed of, people are less likely to shop there or avail the services the shops have to offer.
Similarly, offices should be kept clean as well. Your office is like a second home, and nobody would want their office to be cluttered with rubbish, and be dirty and germ-ridden. Commercial cleaning is slightly different from your home or regular cleaning. This blog post highlights some tips that can help make your commercial area a clean and healthy space.
Always Use Commercial Or Industrial Cleaners
A home cleaner won't be enough to remove those stubborn stains from your commercial kitchen or clean your machines. This is because they have a light formula suitable for cleaning homes and small places only. On the other hand, commercial cleaning requires an effective and strong chemical cleaner that can give you an industrial-grade clean. Such cleaners are meant to remove those stubborn dirt and mud stains that can be hard to clean or dissolve through a regular cleaner.
Prepare Your Cleaning Essentials
Another important tip to have a better commercial cleaning experience is to prepare everything in advance that you will need in the cleaning process. In a commercial space, every worker should have their own cleaning supplies, like cleaners, mops, brooms, disinfectant wipes, and others, so they don't have to rely on others to supply them with the cleaning essentials. Moreover, it is best if all of these supplies are kept in one well-known location so everyone can access them when they need them.
Remove Trash Everyday
It is extremely important for commercial space owners to remove the trash from their area. Nothing is worse than a stinky trash bin, after some time it can lure in bees and bugs that can further deteriorate the environment there.
So, it is better to remove the trash every day. If you are working in an office, employees should decide who will take the trash out every day. You can either rotate every day, or every week, or however your team thinks will make the most sense.
Use The Latest Equipment
A commercial cleaner should remain updated with the latest equipment available for cleaning commercial spaces. If you are expecting good results after cleaning an area, you should invest in good quality cleaning technologies such as a vacuum, mops, dry floor, etc. The availability of such equipment ensures deep and professional cleaning while promoting a safe and sound working environment.
Clean The Floors Properly
Your floor is a place that receives a lot of foot traffic every day and thus, needs special care and attention. Dirt, grime, and dust can be kicked up into the air and then fall onto other surfaces or trigger allergic reactions. Therefore, you must clean them using an effective commercial or industrial cleaner to ensure all bacteria and germs are killed.
Your floors are one of the most difficult and important parts to clean in a commercial area but having the right kind of commercial cleaners and tools for that purpose, you can keep them in good condition for a long time.
About Sunrise Industrial Cleaners
Sunrise Industrial Cleaners is an industrial-grade cleaning product specialist. We proudly manufacture and supply a comprehensive range of liquid and powdered industrial cleaning and degreasing products. We have over 20 years of industrial cleaning product blending experience. If you have any questions or concerns about our products, please don't hesitate to give us a call or fill out our contact form.