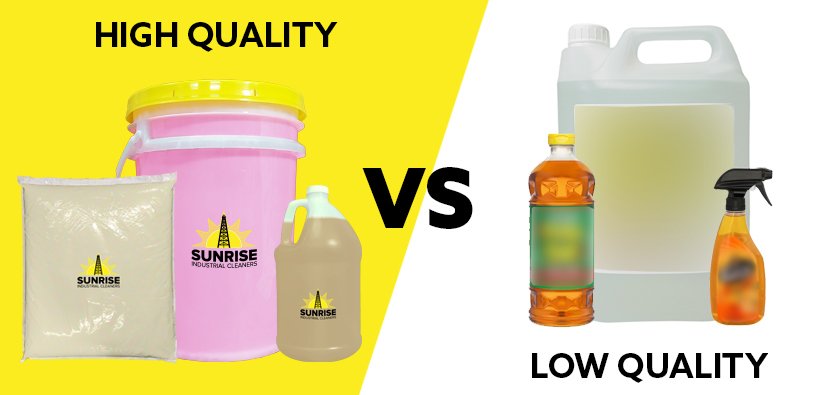 You might be mistaken if you think there isn't much difference between low quality and high- quality industrial cleaning products. The two are different in many ways and require a different level of expertise and approach to be used effectively. The industrial areas catch dirt, dust, and grease very quickly, so these places must be cleaned with high-quality products.
Amount of Effort Required
Top cleaning products deal with larger areas that are used in a way that creates grease, rust, dust, and stains. High-quality industrial cleaning products make the job easier for the workers to clean large and immensely greased, stained and dirty areas in less time and with less effort. Therefore, the productivity of the process is enhanced.
On the other hand, if you use low-quality products, more effort and time will be required by the workers and even after that, the result will not be the same as with the high-end products.
Different composition required
High-quality industrial cleaners have the next level composition that enables them to clean stains, which are not only stubborn but also spread over large areas in factories or other industrial plants. It's the composition and formula of the cleaning product which, if applied correctly, results in maximum output.
In contrast, low quality or substandard cleaning products take more effort and time but even then do not give you the desired results, mainly due to their weak or older composition.
Prices may be higher for high-end industrial cleaners
Another difference between low quality and top standard industrial cleaning products is the price. The prices of the top cleaning products may seem to be higher than the other products and rightly so. As a customer, you should also consider the fact that time and effort wasted in using low-quality products costs a lot more than the one time slightly higher cost of top quality products. It's a one time cost but it does not feel like a burden when you see the results in lesser time and with lesser effort as well.
The saved time and effort in case of using good quality products comes handy when compared to the output of the sub-standard products. It's always better to pay little more and optimize the output instead of paying less and compromising on the quality of work. After all, it's a matter of cleanliness that is not only about the clean look but also related to the hygiene and health of your workers.
Cheaper products may damage the surface
Another aspect that must also be considered while selecting the cleaning products for your industrial area is whether the cleaners affect the surface badly or not. The art of the best cleaner is that it should only be hard on the stains and grease and not on the surface. This is something that you may not find in the low-end products in the market.
In this way, even if the product removes the stains, they may leave their permanent mark on your surface, for example, floor, walls, etc. It will keep on reminding you of the mistake you committed by selecting low-quality products.
About Sunrise Industrial Cleaners
You don't have to worry about selecting the high-end cleaning products which are not only top quality but are also available at a reasonable price. You just need to go to Sunrise Industrial Cleaners or you can contact us. We're here to provide you with the best deal in town so that your premises not only shine bright but also remain hygienic and safe for you and your workers.