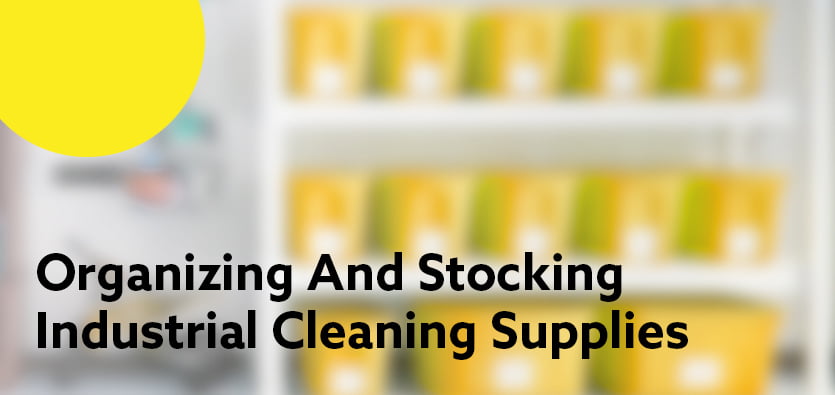 Keeping your work environment neat and tidy can have a significantly positive impact on your business. A clean and well-arranged workplace is something your employees expect from your organization. It helps in increasing their daily productivity as well as maintaining a healthy work environment. Besides, you can also attract new and retain existing clients through an organized environment.
Using high-quality industrial cleaners regularly is the best way to make your work atmosphere look professional. Commercial cleaning products like soaps, polishers and degreasers can make a difference in achieving your cleanliness targets. Most companies probably don't struggle as much in cleansing their workspaces as they do in storing and organizing a variety of cleaning supplies.
Firms which are unable to keep their cleaning equipment in order, we recommend some of the most practical ways in which you can organize different industrial cleaning supplies in the following detail:
Make Inventory of all Supplies
First of all, it's vital to know which type of cleaning products you have in your existing stock. Empty the supply closet and make a list of all the supplies you have in inventory at the moment. This will give you an idea about what products you have and what you need to repurchase.
It's also a good practice to keep in touch with your team and anyone else who is responsible for using the cleaning supplies at your location. It's best to make a master inventory list and keep it close to your supplies area along with your suppliers contact information for when you're ready to restock your inventory.
Invest in Spacious Shelving
One of the primary reasons why cleaning supplies get disorganized is not making a proper plan for keeping and storing these supplies in the right order. It's important to invest in spacious shelving and place your cleaning products in order so you know what you have available and where it is. Know when and how your cleaning items are being consumed so that you can store the most frequently utilized supplies at the front and also keep things for specific purposes in one place.
Get Storage Boxes and Label them
As mentioned earlier, it's beneficial for you to invest in sufficient shelving to store industrial cleaning products and have an organized supply closet. Apart from that, it would help if you also considered investing in storage solutions like clear bins of various sizes. Don't forget to label all the boxes and containers for easy retrieval of required disinfectants.
Designate someone in charge
The primary aim behind this entire discussion is to organize everything and make the cleaning process easy for everyone through quick access. After assembling everything, don't let things get back to their old ways; instead, designate a supervisor who will be responsible for recording the daily consumption of the available stock and also initiate requests to repurchase supplies whenever needed.
About Sunrise Industrial Cleaners
Sunrise Industrial Cleaners is an Edmonton-based company which specializes in producing high-quality industrial cleaning products such as soaps, degreasers, detail products, industrial cleaners, and more. Visit our website or contact us now for further information.