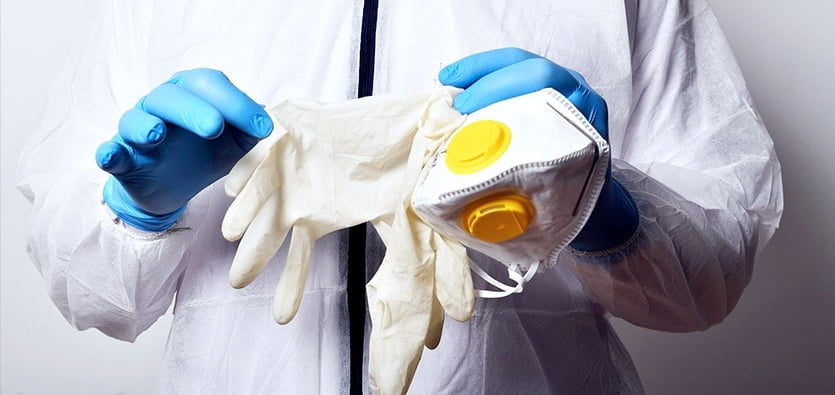 Industrial cleaning is not as simple and easy as commercial or residential cleaning. When it comes to cleaning an industrial facility, you need to consider the different chemical applicants needed to clean the stubborn stains of different materials and elements in play. Using chemical applicants to clean surfaces and areas, requires the cleaning staff to take specific preventive measures to ensure they keep themselves safe.
Wearing proper gloves
The first preventive measure that cleaning staff should take when applying chemical applicants is wearing the proper gloves. You need to protect your hands as these are the parts of your body closest to the chemicals. You need to make sure the materials of your gloves are appropriate for the type of chemical you are using. Using the wrong gloves will not help to prevent the chemicals from harming your skin.
Wearing a Mask
The second thing you need to do is to make sure you are wearing a mask while applying a chemical applicant.Working and inhaling chemicals can be harmful to you. Wearing a mask can help save you from the smell, and particles in the air which can cause respiratory problems. A mask is necessary when you're working with strong chemicals that might have acidic elements in them.
Coveralls help to protect your body
You also need to protect your body from the chemical you're cleaning the industrial facility with. Wearing coveralls will protect your body when you're cleaning the surface. Anything can happen at any moment while you are cleaning. A bucket full of a chemical can fall, you might apply too much of an applicant to the surface, and it can splash onto your body. After all, the overall well being of your employees should always be top priority when it comes to protecting them from hazards during their job.
Go for the right strength
Another significant preventive measure is to know what strength of the chemical applicant you need to clean the surface with without damaging the surface. If you use an applicant with more concentration than it needs, you might endanger the surface you are cleaning. It might remove the original stains you are cleaning, but create damage to the surface. If you damage the surface, it can cost you a great deal to replace it. You must get a chemical applicant with the right strength to ensure you don't damage the surface.
Use the right quantity
Even if you use the chemical applicant that has the correct strength, you can still damage the surface if you use the applicant in excessive quantities. When you use too much of an applicant, it may also cause a defect to the surface you are cleaning. Using the right quantity to clean the stains correctly without causing damage to your skin or the surface is a real art.
Using the right chemical applicant
If you want to clean the surface effectively, you will need to do some research to ensure that you get the right chemical applicant to remove the type of stains you will be dealing with. If you choose the wrong chemical applicant, you will not be able to clean the surface effectively. It'll cost you financially as well as will waste your time and effort.
Sunrise Industrial Cleaners makes industrial cleaning safer, more comfortable, and useful for top-notch cleaning products at competitive rates. We have a wide variety to suit all surfaces and clean all kinds of stains and spots. To contact us and get your free quote, click here.