SW248 Blast Out Fresh Scent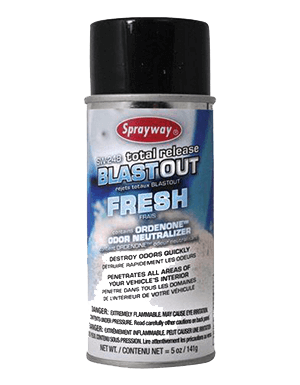 Description:
Dual action actuator can be locked in place for total release of product or pressed slightly to purge small amounts
Contains Ordenone™ Odour Neutralizer
Eliminates unpleasant odours in your car, boat, RV or other vehicles, hotels/motels, etc.
Creates a deep-reaching fogging mist effective on odours caused by mustiness, pet urine, mildew, decay and tobacco smoke
Long lasting fragrance to neutralize odours; does not just mask
Order Now
We're here to help!
We take pride in providing our customers with premium industrial cleaning products at affordable rates!