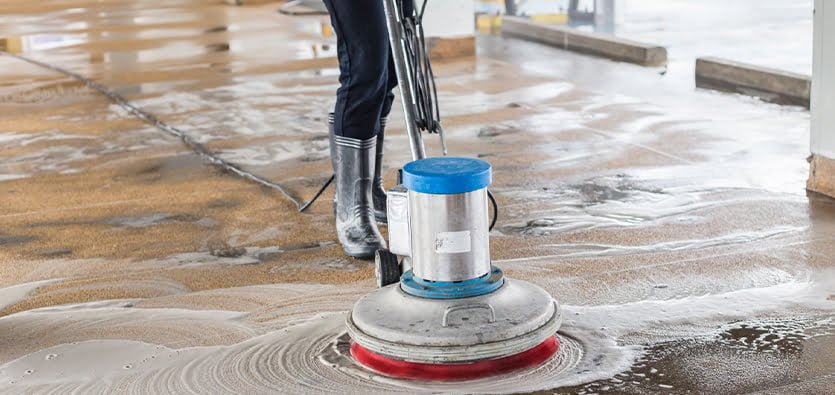 Concrete is one of the most common flooring types you will see in most buildings. It is one of the cheapest and strongest flooring solutions among marble, wood, tile, and more. Although concrete is quite durable and can last for years, constant wear and tear and lack of care can damage it. This can greatly affect its appearance and performance.
One of the best ways to take care of your concrete floor is to make sure it is kept clean. Industrial cleaners can play an active role in keeping your floors clean and make them last longer.
Cleaning Prevents Dullness
Your concrete floor has a porous structure which is why its shine is short lived. Over time, dirt and grime accumulate on the concretes' surface, affecting its appearance. Cleaning concrete floors and polishing them after regular intervals can minimize the dullness and bring the original shine back on your concrete floors. Regular cleaning will not only keep your concrete floors clean but will also give them an appearance similar to when you first installed them.
Cleaning Helps Save Money
Concrete floors and their maintenance are relatively inexpensive as compared to other flooring types. They are easy to clean but might require frequent cleaning and polishing to retain their shine and outlook. Concrete floors don't require expensive cleaners or specialized equipment for their cleaning. Instead, you can find affordable soaps and industrial cleaners here to do the job.
Like most structures, their maintenance is cheaper than repair. Hence, regular cleaning will prevent you from having to spend money on repairs in the long run.
Cleaning Ensures Resistance
Concrete floors that receive large foot traffic every day are more prone to wear and tear, scratches, damage, and breaking. This impacts its overall resistance and makes it vulnerable to more damages. Cleaning it regularly will make it resistant to such scratches and help to alleviate other damaging effects. Moreover, an epoxy coating can also protect the concrete floor's surface and prevent it from staining.
It Increases Home Value
Cleaning concrete floors with the help of a professional cleaner is extremely important for rental properties or those thinking of re-selling their property. Having well-maintained floors, paths, and walkways will leave a good impression on the buyer and increase the value of your property.
Cleaning Ensures Longer Life
Cleaning and polishing your floor protects it from the external factors that can degrade its shine and appearance. Over time, wear and tear reduces its lifetime. Cleaning, on the other hand, is beneficial to ensure its durability and life for years. In addition, the external floor polishing and coating can prevent its surface from becoming porous and avoid dirt grounding.
What Can You Use On Concrete Floors For Cleaning?
Knowing the type of cleaners you should use is important before beginning to clean the concrete floors. If you have waxed or sealed floors, you must avoid using harsh chemicals as they will damage the shine of the floor. Use pH-neutral cleaners to clean your waxed floors to protect their shine.
Avoid using vinegar, lemon, ammonia, or other harsh chemicals to clean your floors quickly. It will affect the shine and finish of the floors and make them more porous. Instead, use a soft-bristled brush and mild cleansers to get the desired results.
Conclusion
Cleaning concrete floors is important to keep them in excellent condition for years to come. Cleaning and polishing will protect them from grime and dirt and retain their shine. However, before you clean your concrete floor, it is better to seek professional advice on which type of cleaners you should use and how.
About Sunrise Industrial Cleaners
Sunrise Industrial Cleaners is an Edmonton-based company providing high-quality cleaning products. We supply a comprehensive range of powdered and liquid cleaners for various applications. Contact us to ask any questions about our products or services.