Lafferty Foamer - High Pressure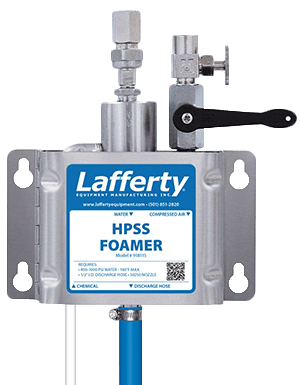 Description:
The HPSS Foamer is a 2 GPM @ 700 PSI foam applicator for projecting foaming chemicals on to any surface up close or at a distance. This stainless steel venturi injection system uses high water pressure (400 – 1000 PSI) to draw and blend chemical concentrate into the water stream to create an accurately diluted solution. Rich, clinging foam is created by injecting compressed air into the solution to greatly increase volume and coverage ability. The foam is then projected through the discharge hose and fan nozzle at distances up to 13 feet.
Key Features
Stainless steel foamer body for durability and maximum chemical resistance
Projects rich, clinging foam which increases chemical contact time and effectiveness
Foaming expands the chemical and reduces over-application by providing visual assurance of coverage
Fan pattern nozzle for quick coverage (up to 13′ range)
Covers up to 500 sq ft (46.5 sq m) in 2 minutes
Optional zero degree nozzle for increased foam throw
Adjustable foam consistency (wet/dry)
Chemical resistant wetted components ensure years of outstanding performance with minimal maintenance
Order Now
We're here to help!
We take pride in providing our customers with premium industrial cleaning products at affordable rates!