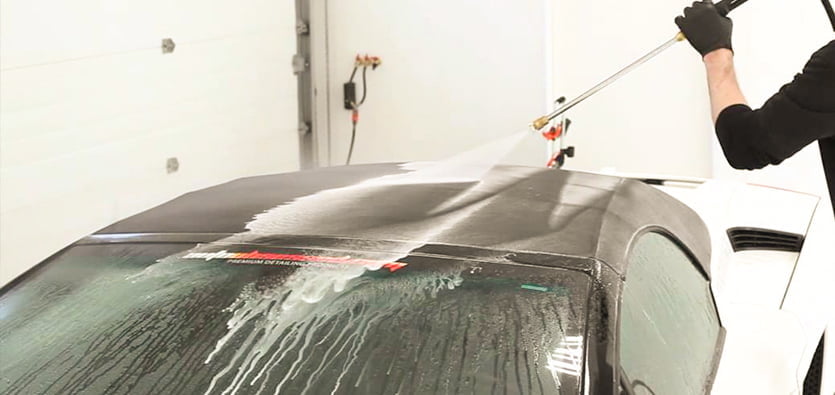 Over the years, automobile manufacturers have been working tirelessly to make vehicles less costly and more visually appealing. In this regard, manufacturers have attained remarkable success in the design and craftsmanship of convertible car roofs. These roofs are a terrific fusion of superior engineering, optimized performance, and stunning aesthetics. As a result, cars featuring convertible tops are irresistibly alluring and attractive.
Evidently, convertible tops have considerably evolved with time to reach the cutting-edge epitome and unmatched supremacy they enjoy today. In order to increase efficiency and convenience while retaining ravishing looks, the material used in the crafting of convertible rooftops has significantly been optimized. However, this level of perfection demands ample care and maintenance.
From regular inspection to using the right car wash products, every aspect requires vigilance. A small slip in the car cleaning products' selection can permanently steal away your car's beauty. Hence, cleaning your car's convertible roofs is quite a delicate matter and requires you to consider numerous factors. Simply passing it through an automated car wash or mixing a random car wash solution in a bucket of water and scrubbing it over the car's top and the rest of the body will not suffice.
In order to help you retain the charming appeal of your car's convertible rooftop while maintaining its durability, there are a few things you should keep in mind. In this blog, we have enlisted a few tricks and tricks that will help you to adequately clean your car's rooftop.
How Is Cleaning A Car's Roof Top A Delicate Matter?
Have a closer look at your car. You will definitely realize the huge difference between the sturdiness, delicacy, fragility, durability, and texture of the materials used to craft each part of your car. While the outer part of your car's tires is composed of polymer, the rim is crafted from an aluminum alloy. Similarly, the rest of the body is constructed from sturdy steel with protective coatings and a paint finish. Contrarily, your convertible roof is most likely made of vinyl or fabric. Lastly, the windows are undoubtedly crafted in glass.
However, when it comes to harsh weather endurance and the cruelty of the environment, you can't discriminate amongst these parts as they equally withstand the elements. Nevertheless, that does not mean you can use the same level of scrubbing you do on the car's tires for its windows. When washing your vehicle, there are certain mistakes you should never make if you want to retain its beauty and longevity.
Think of it as your body. You certainly can not use a pumice stone that you mostly use on your feet to clean your face. The results will certainly not be pleasing.
Tips For Effective Convertible Roof Cleaning
1. Know Your Convertible Roofs Material
Knowing your convertible roof's material type is the most crucial step of the cleaning process. This step will unquestionably lay a foundation for every other task that follows. For example, even if you select the best car detailing products, they will be useless if your roof's material can not withstand them. Hence, it is important to know whether your rooftop is constructed from vinyl, canvas, or any other fabric.
2. Brainstorm The Suitability Of The Cleaning Products
Once you know the material, the next step is to begin the hunt for the most suitable cleaning products. You first of all need to find the most reliable provider of car wash supplies in Edmonton. Then request them to suggest suitable cleaning and detailing products for your car's convertible roof.
3. Blow Off The Debris Before Using The Cleaner
Now let us get down to the cleaning process itself. You know that dust and debris love the seams and the area around the rear window. Hence, before you wet the top and cause these materials to further soak in, blow them off using a vacuum cleaner. Alternatively, you can also use a bristle brush.
4. Avoid Washing Under Direct Sunlight
A bright sunny day may sound like a perfect match for your car washing plans, but direct sunlight can do more harm than good. In direct sunlight car cleaning chemicals dry way quicker than you would have planned. In fact, these dried chemicals will further demand extra effort to be removed from the car's surface.
4. Use A Gentle Hand
Do not be harsh on your convertible roof. Although these roofs are crafted using durable materials, which are also excellent insulators, this does not mean that they can handle rough scrubbing. Sometimes, the results are far better when you use a gentle hand.
5. Apply A Protectant
Lastly, although your car's rooftop is treated to withstand UV rays during the manufacturing process, this layer washes away with time through regular cleaning. Hence, you should apply a protective layer of the right protectant after the top is completely dry.
About Sunrise Industrial Cleaners
With the most versatile range of cleaning products, Sunrise Industrial Cleaners meets every residential, commercial, industrial, and car washing need perfectly. Contact us to learn more.